For Now by Chelsea M. Cameron
Two people. A one-night stand. What could go wrong?
Javier Cruz definitely isn't relationship material, but that suits Hazel Gellar just fine. She's not a relationship girl and doesn't plan on ever being one.
But after a mind-blowing, panty-ripping, bed-breaking night, she knows once isn't going to be enough. Fortunately, Javi feels the same way. Soon, what started as just one night turns into a lot of nights, and Hazel doesn't know what to do.
Will she and Javi make the choice to be together for longer than just right NOW?
Chelsea M. Cameron is a YA/NA New York Times/USA Today Best Selling author from Maine. Lover of things random and ridiculous, Jane Austen/Charlotte and Emily Bronte Fangirl, red velvet cake enthusiast, obsessive tea drinker, vegetarian, former cheerleader and world's worst video gamer. When not writing, she enjoys watching infomercials, singing in the car and tweeting (this one time, she was tweeted by Neil Gaiman). She has a degree in journalism from the University of Maine, Orono that she promptly abandoned to write about the people in her own head. More often than not, these people turn out to be just as weird as she is.
Website: http://www.chelseamcameron.com/
Twitter: https://twitter.com/chel_c_cam
Facebook: https://www.facebook.com/pages/Chelsea-M-Cameron-Official-Author-Page/304422529610919
Goodreads: http://www.goodreads.com/author/show/5752359.Chelsea_M_Cameron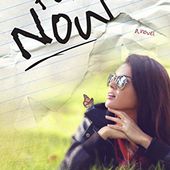 For Now (Rules of Love, Book Two)
For Now (Rules of Love, Book Two) - Kindle edition by Chelsea M. Cameron. Download it once and read it on your Kindle device, PC, phones or tablets. Use features like bookmarks, note taking and ...
http://www.amazon.com/Now-Rules-Love-Book-Two-ebook/dp/B00PBEZWKS/ref=sr_1_1?ie=UTF8&qid=1415323111&sr=8-1&keywords=for+now+by+chelsea+m.+cameron
My Review
Relationships are messy, complicated, and at times totally not worth it. But no strings attached DOES NOT EXIST, we all know this and we all get hurt in the long run. SPOILER if you have not read For Real, you learned that faking it, is so unbelievably hard and makes your head wanted to exploded. When I read For Real, I remembered the flash backs to the peer presser my friends had bestrode upon me and wished my sex life was never a topic of conversion, but we all make the bad choice and talk about it and they always fell the need to FIX IT! But here we are in For Now and are look at our happy little bed hoppers and wondering, what in the world are Hazel and Javi going to get into.... And OH...MY...GOODNESS! If you thought Jett and Shannon were funny, boy are you ready for some fun. But as I said relationships can heal you or wreck you, I can't tell you anything, but this book got a solid 5 STARS from me! Bravo Chelsea!